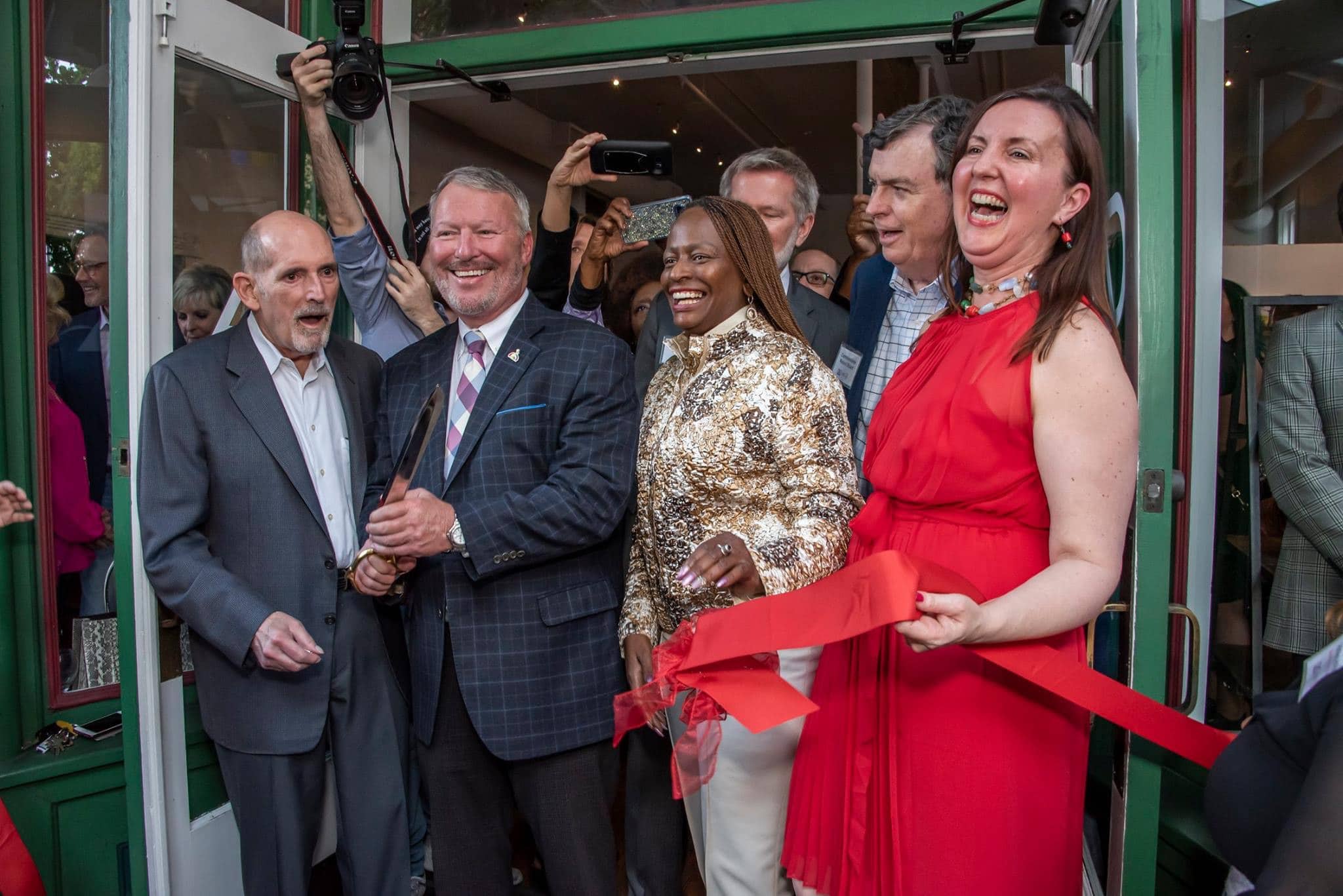 CityArts Orlando – New Downtown Location [Pictures & Videos Preview]
On Thursday, March 21, 2019, Cityarts Orlando reopened their art gallery doors at their new Downtown Orlando location inside the historic 132-year-old Rogers Kiene Building at 39 S. Magnolia Ave. This building was donated to the City of Orlando in 2018 by Ford Kiene, who wished for "the space to be used for arts and culture for the next two decades". CityArts now rents/leases this green beauty from the City of Orlando. If you have not known, CityArts Factory was closed in November 2018. After rebranding and finding a new home, they've taken on the name of CityArts Orlando and we love it.
We were given a chance to tour the building before the opening night. The tour was given by Ha'ani Hogan, the Development Manager of Downtown Arts District and Barbara Hartley, the Executive Director of Downtown Arts District. We learned that the new space of CityArts is divided into five individual galleries, they are the upstairs Signature Gallery, the Redefine Gallery, the Spotlight Gallery, the Young Artists Gallery, and the downstairs Signature Gallery. Below we highlighted in more detail each gallery with a sneak peek at what you'll see inside:
Signature Gallery – Downstairs
When you first enter the building you will witness the downstairs Signature Gallery. Currently on display is the H2Show, which showcases artworks representing Florida's ecologically diverse scenery and all of its true beauty. The featured artists in this exhibit are Cindy Anderson, Stephen Bach, Krista Reay Berman, Donne Bitner, Kate Carney, Noreen Coup, Heather Earnest, Todd Foxx, Patty Kane, Martha Mahoney, Suzanne Oberholtzer, Christine Peloquin, Sara Rigas, Robert Ross, Jamieson Thoms, Chip Weston, Jim Whipple, Lynn Whipple, and Marty Whipple.
Also included in this exhibit are painted rain barrels from Orange County Utility's Watercolor Project: Paint a Brighter Future through Water Conservation. The water barrels are on display around the downstairs Signature Gallery and all of them were painted by students from Orange County Public Schools.
Signature Gallery – Upstairs
Heading upstairs if you look to your left (after entering the main upstairs hallway), you will witness the upstairs Signature Gallery, known as a space that can be utilized not only for an exhibition but it can also be used as a venue space with a podium and there is room to fit over 40+ people. Currently, Art Meets Medicine exhibition is on display there featuring over 100 pieces of art created by Central Florida cancer patients and their families at the Cancer Support Community.
Spotlight Gallery
Located across from the upstairs Signature Gallery is the Spotlight Gallery, a wonderful space for witnessing solo exhibitions with monthly rotations showcasing a different artist's works each time. Currently, Vickie Wilson has her Vibes of the Universe collection of abstract paintings on display in this room.
Young Artists Gallery
Exiting the Spotlight Gallery if you turn to your right, the very next room in the middle of the hallway is the Young Artists Gallery presented by the Orlando Magic. This gallery showcases every month the works of young high school and college artists. This gallery gives them an opportunity to exhibit their work in a professional gallery setting and kick-start their careers as working artists. Currently, on display are the following local young Orlando artists: Sean Casey, Sierra Hack, Scott Holderman, Joyo, McKenna Lynn, Claire Mullinax, and Benjamin A. Valentin-Roman.
Redefine Gallery
Exiting the Young Artists Gallery to the right is the Redefine Gallery, a space for local artists in Orlando & beyond to showcase their freshest contemporary works of art. Currently on display is Attachment Hunger, featuring a collection of artworks from local Orlando artists, Scott Donald & Sean Hartman.
All art currently on display are for sale, but please note that artworks may be subject to purchase at any time, therefore some of the works you see pictured in this article may be already sold. Please call CityArts Orlando for more details at 407-648-7060. 
The new space of CityArts will get a couple more additions to it in the coming months, like the Create Cafe (pictured below to the left of CityArts main entrance), located on the first floor, projected to open this Summer 2019. At the Create Cafe, you can expect to enjoy locally roasted coffee, quick service food, beer and wine in an artistic environment. There will also be an artist in residence studio style space, towards the side rear of the building, which will feature one artist.
During Thursday evening on March 21, 2019, a ribbon-cutting ceremony was held, featuring Ford Kiene, who donated the Rogers Kiene building to the City of Orlando in 2018 (far left in the picture below), City of Orlando, Mayor Buddy Dyer (center left in the picture below), Orlando City Commissioner, Regina Hill (center right in the picture below), Barbara Hartley, the Executive Director of the Downtown Arts District (far right in the picture below), and Orlando City Commissioner of District 3, Robert Stuart (pictured behind Barbara).
Experience the new CityArts Orlando! For more information, call 407-648-7060 or visit www.DADOrlando.com.