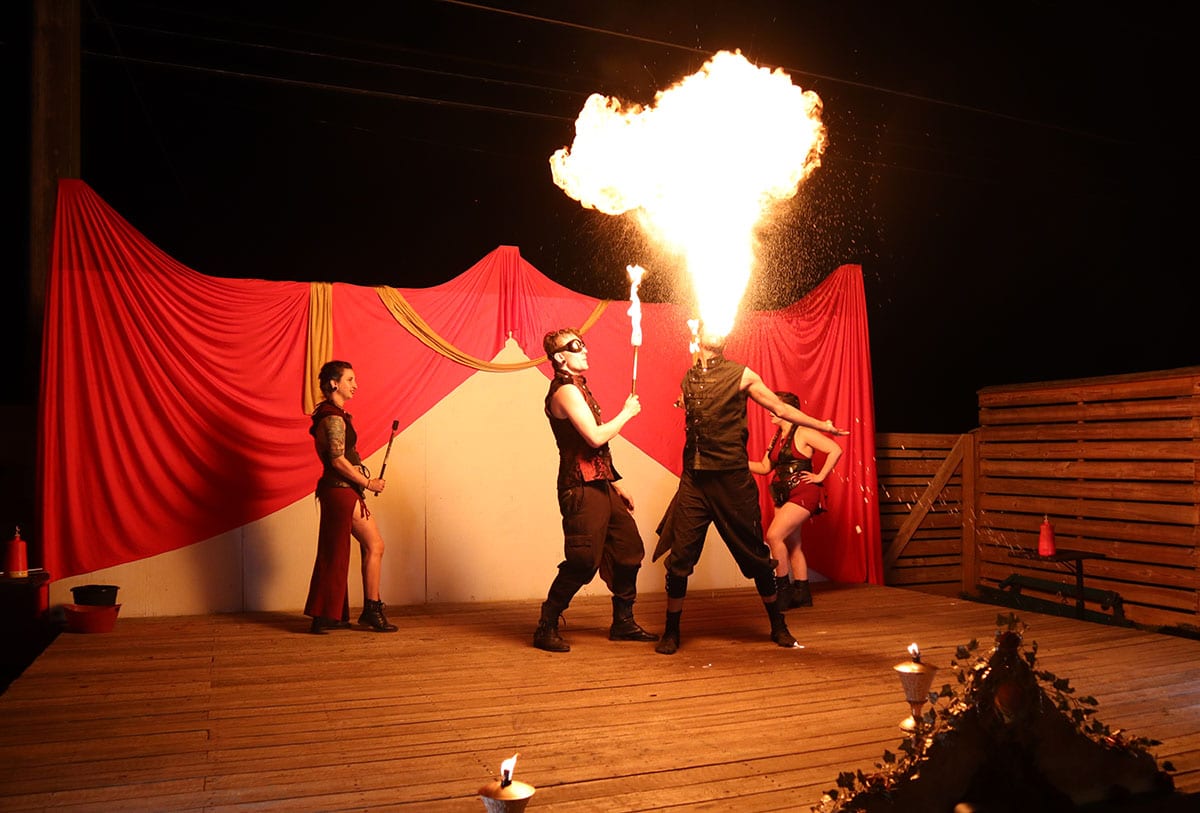 Cirque Bishop Presents the Circus of Love – Highlights
Last weekend, Cirque Bishop showcased their first public event show, circUS of LOVE at the HENAO Contemporary Center. This show was a specialty LOVE themed show for Valentine's Day week. All forms of arts were represented at the show from performing arts to visual arts and tech art via 3-D printing.
Two "rooms" were occupied as performance space. The first acts consisting of dancers, the strongman, the knife thrower and the burlesque performers took place in the interior room at HENAO. The second acts consisting of acrobats, aerial silks and fire performances occurred in the backyard area of HENAO.
The creativity was never ending at the show. Jess Harvey, also known by her artist name, Jess Neptune, one of the co-founders of Cirque Bishop, disclosed that all the props, decorations and artwork in the venue were handmade by their team. Neptune mentioned that she wanted the event to showcase an experience on every corner and we witnessed that goal as a success. Upon arrival, guests made their way into the first room where they had the opportunity to take pictures at the Circus of Love photo booth.
Entering the bar area, attendees were able to witness a digital 3-D printer that was actively creating a red molded model of two hands folded into the shape of a heart.
A vision-like board was also made available to attendees to write down their definition of "what love is". Check it out!
Entering the backyard of HENAO felt like entering another world of MAGIC as LED glow balls were in motion and LED-lit hula hoops spun round and round. For a second, we thought our eyes were playing tricks on us as we even witnessed a floating baton spinning in the air, but, it's the Circus of Love so, we knew we would be in for a treat but, we did not know we would also be witnessing live magic.
The first act of the night was an LED Hula Hoop performance, which was spectacular. Lights flashed as the performers danced with a shimmy here and a shimmy there. This performance was mesmerizing and honestly, we knew the performances would only get more intriguing.
The knife throwing act had the crowd on "pins and needles", as this daring performance involved model KC Allen posing against a wooden target. Bill Nichols, the professional knife thrower in this act had the crowd in awe, as he hit the target with every single throw.
The audience was even surprised with a Burlesque dance number that featured hot and fierce dance moves. This dance number was not for the shy or faint at heart. But, it was kept tasteful with minimal nudity.
The show went on with the strongman's performance, where he squished a frying pan in half with his hands. After the strongman's performance, a brief intermission took place, as the aerial silks act was up next. Teddy Fournier and Tempestt Halstead were the performers for aerial silks and their presentation was poetic. It spoke volumes and made the night even more romantic for attendees as the performers caressed one another from beginning to end.
Saving the best for last were the fire performances. Flames flew in the air as these powerful yet playful acts kept us wanting to see more. Take a look for yourself, if you dare!
Founded in 2015, Cirque Bishop all started with Brad Bishop (seen on the far right in the picture below dressed in all black) and Jess Harvey (seen on the far right in the picture below to the left of Brad), a duo that joined creative forces to manifest the circus entertainment company, Cirque Bishop, LLC. They work with circus performers all over Florida and some across the nation. Normally, they are seen performing at private events, corporate events, weddings, festivals and more. Harvey mentioned that she wants to continue to grow the brand in hopes of inspiring others to create. We would like to give a special thanks to Cirque Bishop and their team for keeping circus performing arts acts and shows alive.
Talks are in the process of having another Circus show this Fall 2019 or early in 2020. So, keep your eyes glued to their Facebook page, facebook.com/CirqueBishop as they plan their next great circus event.