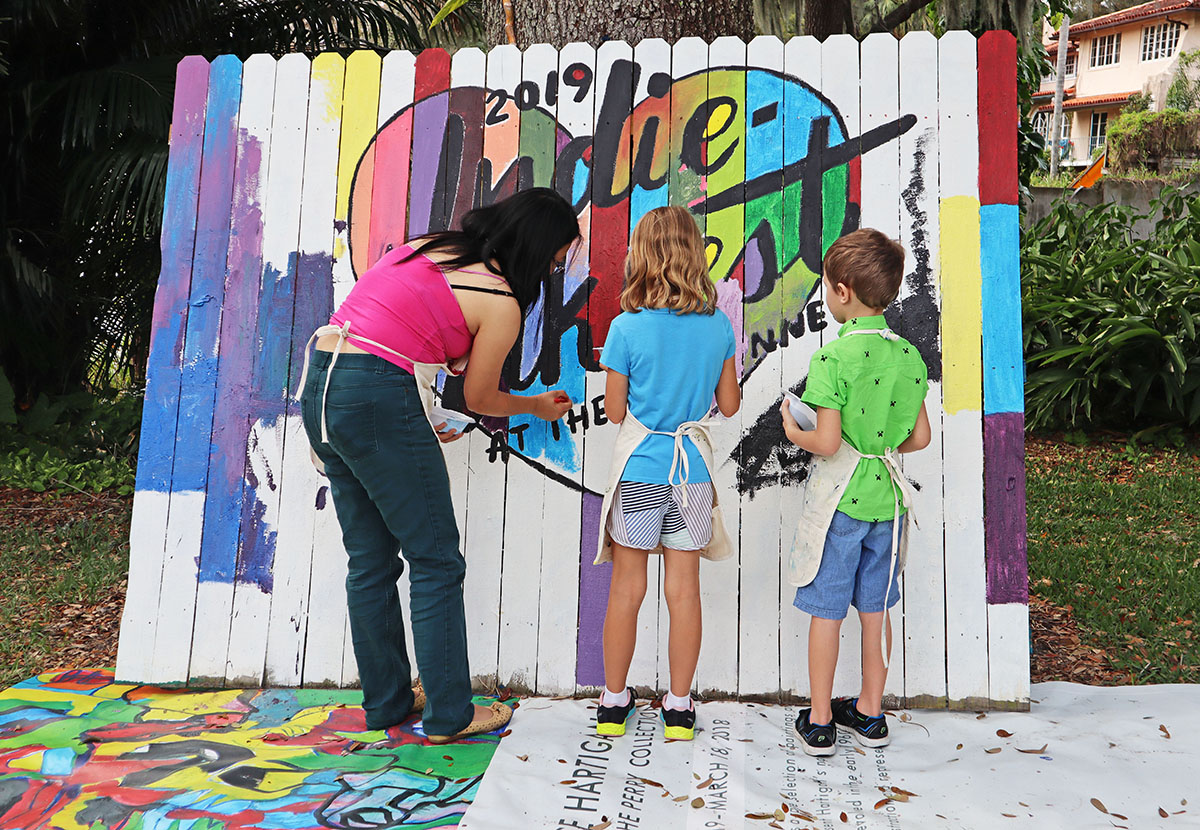 Review: Indie-Folkfest 2019 – Photos & Videos
On Saturday, February 16, 2019, Orlando, Florida experienced the 5th Annual Indie-Folkfest at the Mennello Museum of American Art. Food vendors were present for the foodies and local artists representing the visual arts were on-site presenting their creative masterpieces. The vibe of the entire event was super chill, laid back and fun. People of all ages were present, enjoying everything from hands-on painting to relaxing on the lawn, taking in the sights and sounds of the live bands performing in Mennello's Sculpture Garden. Everyone who attended this fantastic event found something during the festival that sparked their interest and participation because there was literally, something for everyone.
We would like to take you on our journey through the festival and introduce you to some of the artists, bands and other creatives that were present. For starters, we spotted Brendan O'Connor of Bungalower.com and Jenny DeWitt, a local blogger known as Townie Tourist on stage emceeing, giving away raffle prizes and making us all laugh galore.
We bumped into the Maxine on Shine booth, where we met with Maxine Earhart, the co-owner of Maxine on Shine, sporting her amazing retro fashion.
Tasty treats were all over the place, but the one food spot that drew kids' attention was Sugarbuzz Dezert Company. They offered everything from homemade chocolate chip cookies to delicious mouth-watering carrot cake.
Next, to Sugarbuzz's booth, Mennello had an awesome live arts station for children and parents to get hands-on by using a fence as a canvas to decorate with paint.
The representation of the diversity of creatives/artists at this festival was unbelievable. For instance, we had to stop by Bet's Bars, they are a local soap art company dedicated to creating handcrafted soaps, sugar scrubs and more. Not only was the smell so good that we had to stop, but, the designs of the soaps were one-of-a-kind. All soaps were designed by Bethany Barber.
Central Florida's very own, Tony Garan was at the fest, showcasing his beautiful mixed media artwork. He stated that this was the first show he has presented his work at, since, Artlando 2015. He mentioned he barely leaves his dwelling, as he loves to create on the daily.
We even met up with famed Folk Artist, Kathy Ivers, who was on the lawn creating a live painting of Eugene Snowden during his performance.
Speaking of Eugene Snowden, he put on a performance to remember, when he sang and danced to the classic song, Everyday People. We captured the moment for you to see because it was that cool. Take a look!
The Swamp Sistas along with Beth McKee served up some enchanting rhythms that made us tap our feet and move to beat. On stage, McKee played the accordion, Renee Arozqueta strummed the guitar, Amy Robbins was also on guitar, and Gailanne Amundsen played the violin. During, their performance, McKee gave us a bit of background on The Swamp Sistas in that they are not just a music group, but they also are a soulfully-connected support group that embraces and uplifts women in the arts.
The 502s rocked their performance session that had us jammin' stage front. But, sorry, you won't see us dancing because we were capturing this jam session for you behind the camera. Check it out!
Others bands that took the stage for the afternoon were Jordan Foley & The Wheelhouse, Lauren Carder Fox and Beemo.
Did you know, that this event is put on by the Mennello annually in order to help them raise funds for their museum's education programs? For instance, funds go toward the museum hosting free family fun days every year and youth programs. If you have not heard, state funding for arts & culture programs has been cut 94%, the museum needs all the help they can receive to continue their initiatives in promoting the arts in our community. Donations as small as $5.00 and up are accepted at the Mennello Museum of American Art's official donation link: https://squ.re/2GOnK7c. Thank you for supporting the Mennello Museum of American Arts and the Orlando arts community.
Pictures speak a thousand words. If you missed this event and/or want to recap the afternoon and all of its awesomeness, take a look at our snapshots of one of Orlando's most anticipated annual festivals: