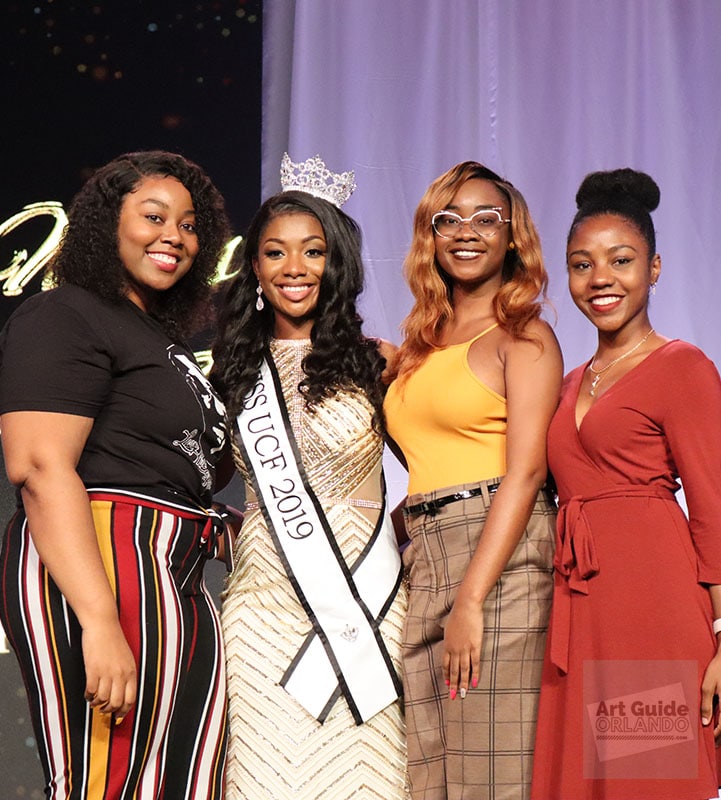 Keyera Lyn Crowned Miss UCF 2019 + Pageant Highlights
Fourteen contestants were in the running for the title and crown of Miss University of Central Florida 2019. The fourteen contestants are as follows: Grace Dyer, Makenzi Gangwish, Keyera Lyn, Tiffany Phetsadasack, Sara Kampiyil, Alyssa Ledesma, Raven McCree, Shelly Breanna Rose, Angelica Powell, Lindsy Craig, Sahana Chandra, Sydnie Sterk, Dazirae Simmons, and Darbi Welbaum. This Miss UCF 2019 pageant was the university's 35th Annual scholarship pageant.
On Saturday evening, Keyera Lyn was crowned Miss UCF 2019. Lyn is majoring in communications as a graduate student at the University of Central Florida. Congratulations to Keyera Lyn as the whole night from her talent act to her evening wear was absolutely stunning. Her awards consisted of $2,000 in scholarship monies and a custom UCF class ring.
The first runner-up to Miss UCF 2019 in the competition was Lindsy Craig, a senior studying and majoring in public administration.
Dazirae Simmons was named the second runner-up to Miss UCF 2019. She studies and majors in human communications as a junior.
Highlights
Rewinding a bit, the pageant opened with a fantastic dance number featuring the Mr. and Miss. UCF contestants and Mr. and Miss UCF 2018 winners. Afterward, the judges were introduced, then, on-stage questioning began. Below you will find a couple of clips of a few contestants that stood out overall.
Everyone showed their best during the talent competition. We say there was no competition, everyone was a winner as they expressed their creative side from spoken word to cultural dance and more. Check out these two talent acts that were unique and highly memorable, just to give you a glimpse of the talents brought to stage on Saturday night:
After the talent portion of the event, Knights Damsels Dance Company blessed the crowd with a dance number before intermission. Go Knights!
There is no pageant without the evening wear portion of the competition, which each contestant graced the stage with poise, confidence, and overall, beauty. The gowns were undeniably g-o-r-g-e-o-u-s, just see for yourself:
During the awards ceremony, Courtney Jones, Miss UCF 2018, cheerfully passed her crown down to Keyera Lyn. Keyera, the new reigning queen of the university took her stance as the crowd cheered away. It was a night full of wonderful memories.
Pictures speak a thousand words. If you missed this event or want to recap the night and all of its awesomeness, take a look at our snapshots of UCF's most anticipated annual event: