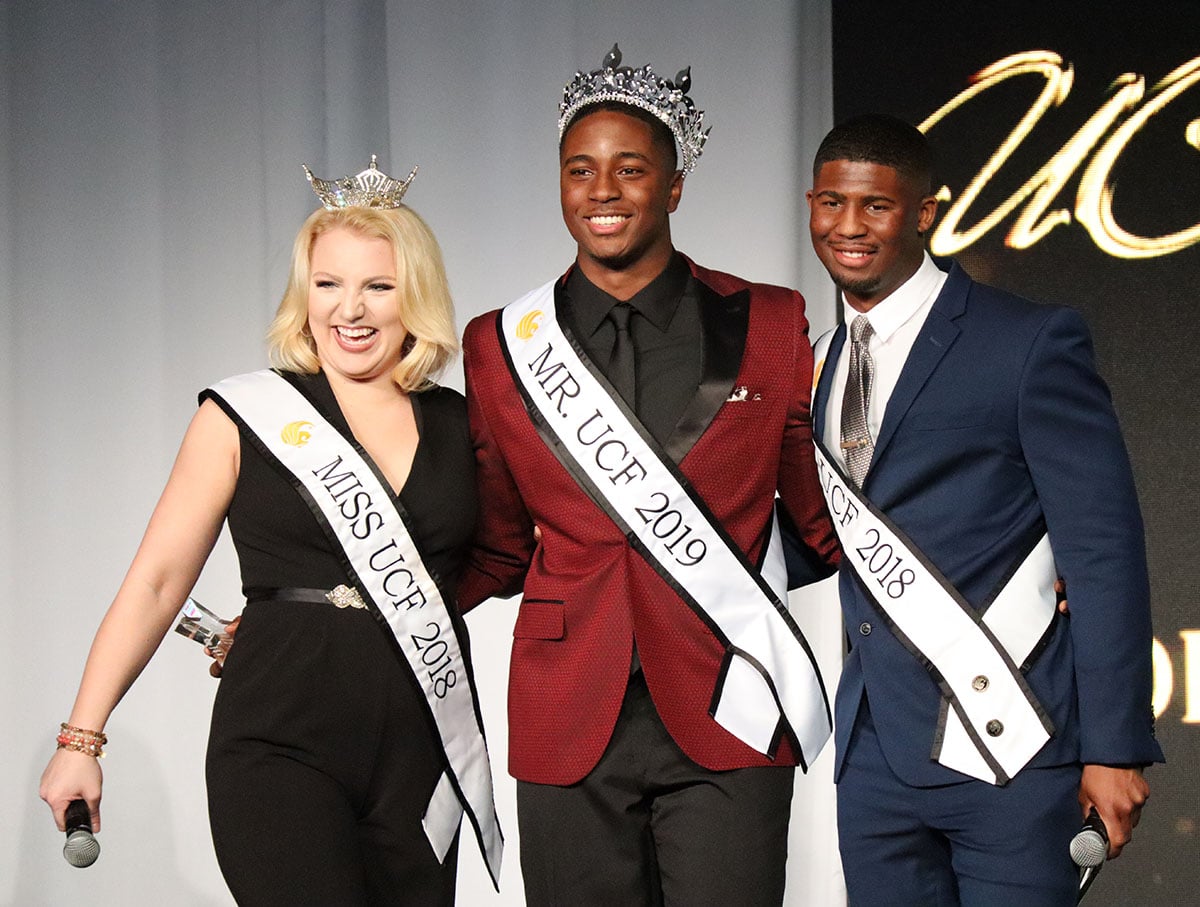 Mr. UCF 2019 Scholarship Pageant Highlights – Freshman Malachi Mullings Wins The Crown
On Friday, Mr. UCF 2018, Braxton Watson passed down the crown and title of Mr. UCF to Malachi Mullings, a computer science major and a freshman at the University of Central Florida. Mullings was the only freshman in the running to win the crown and title of Mr. UCF 2019. He won a $2,400 scholarship from the Student Government Association and the UCF Alumni Association.
The second runner- up was Darwin Olchima, a UCF Knight, studying and majoring in psychology as a senior.
This year marked the 35th year of the Mr. UCF pageant, one of the longest traditions at the university. This year, there were six male contestants in the running: Darwins Olcima, Giovanny Garzon, Seon Lewis, Jesse Sheplow, Auree Postell, Malachi Mullings. The pageant was held on campus at the Student Union in the Pegasus Ballroom.
The talent portion is always one of the most highly anticipated parts of a pageant. Below we highlight each contestants talent presented on Friday evening. We'll start with the most unique talent we witnessed during this spectacular event, a silent puppet acting number that showed UCF Knight school spirit by Jesse Sheplow.
Darwins Olchima blessed us with a soliloquy that related to his body image and acceptance.
Giovanny Garzon sang the beautiful Beyonce song from the movie, Dreamgirls titled, Listen.
Seon Lewis did a spoken word talent, titled, Is there More?
Auree Postel presented a drumming talent, titled, Latin Lover. It was a wonderful way to share a piece of his Puerto Rican heritage on stage.
Malachi Mullings showcased his spoken word talent, No Time to Chill, which focused on police brutality and rising above adversity.
When it came to the talent portion, all the contestants were winners in our eyes. They all did an amazing job. It was a great evening for all who attended and participated in the Mr. UCF 2019 scholarship pageant. Take a look below at more pictures we captured during this event. As they say, "a picture is worth a thousand words".