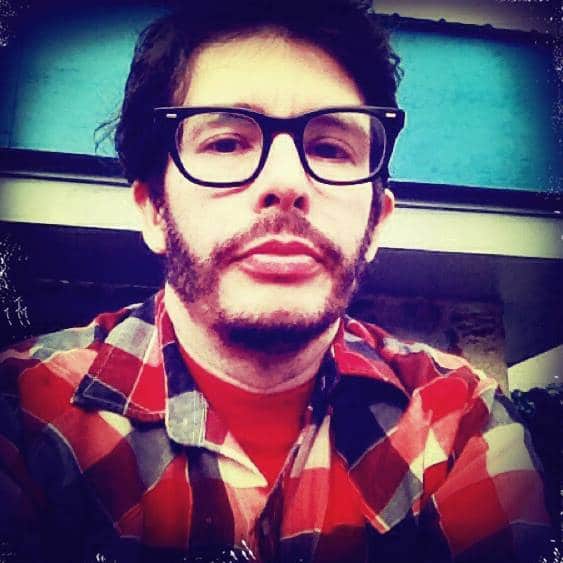 Jeffrey Howard (Musician + Pop Artist)
Jeffrey Howard is a musician and artist living most of his life in Central Florida with his wife Kristin. He studied design at Valencia Community College and Art History at the University of Central Florida in Orlando, Florida.
Howard began creating collages out of record album covers in 2013 when his band Hot Hands needed some artwork for their newly recorded album.
The title of this piece, "Blood Stereo", came from letters condensed from an old children's Halloween album using multiple images of skulls, James Brown playing drums, space ladies and people watching the whole mismatched event. It became the first inspiration to the adventure into creating pop art out of pop art.
The band went on a six-month tour across the entire country towards the end of 2013. Downtime was spent scouring record and thrift stores for cheap albums to create new narratives and designs. Smaller completed pieces were displayed and sold at performances alongside t-shirts, CDs and buttons on the merch table.
Howard moved back to Orlando in 2015 opening a vintage clothing and button manufacturing shop called Kick Bright Shop & Buttons inside a repurposed mall called Artegon Marketplace. There he also helped out several neighboring shops including RNR Record Shop, where he had access to a huge supply of albums not in good enough condition to be sold. Instead of heading to the trash bin these albums were painstakingly cut up and reassembled into new works of art.
Jeffrey Howard can be found at his website Kick Bright (http://www.KickBrightZine.com) showing his collage artwork as well as additional art in different mediums.
Instagram: @jkickbright
Email: kickbright@hotmail.com
There are additional photos at: https://kickbrightzine.com/jeffrey-howard-artwork/