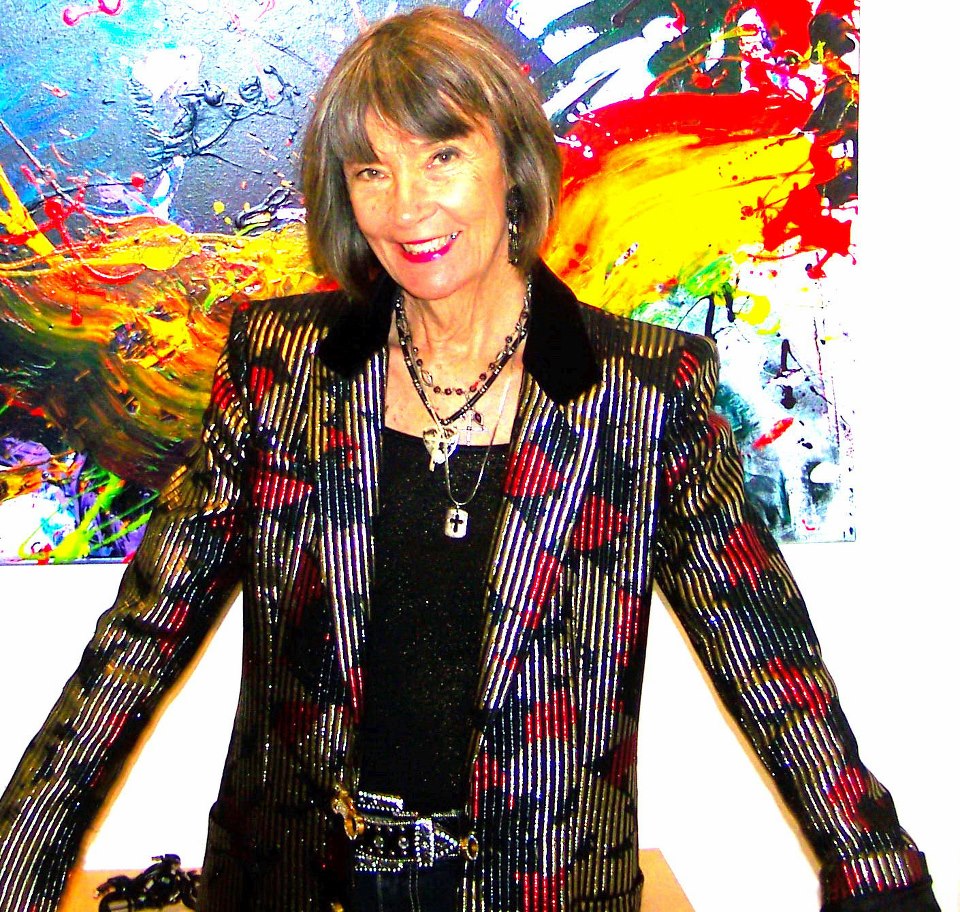 Vickie Wilson (International Artist With Colorful Pizzazz)
Growing up in Minnesota, I attended the University of Minnesota, as an art major. Additional studies in Aspen, Colorado summer school and Art Students League, New York City. Birthed on the likes of Jackson Polloch and Willem de Kooning. Then moved to NYC, was subjected to years of watching graffiti-covered subway trains, blurs of color, screeching brakes, just pure raw emotion, add some Keith Haring, Studio 54, punk rock and just plain life in the fast lane. Started my advertising career by working for a very demanding advertising photographer. These memories have been transformed into painting and ceramic sculpture.
My career working in advertising continued by moving to Orlando for work in commercials, music videos, television pilots, promotional videos, many for Universal and Disney, the Maiden Voyage of the Magic cruise ship, Disney Wonder, and the Queen Mary 2. Wore many hats as set decorator, prop master, art director, costumer and wardrobe stylist. This left little time for "art" except for some ceramics but it satisfied my creative desires, …………until the past 10 years. Hung up the hats and took out the paint brushes.
New York City shows:
– Allen/Wincor Gallery: Ceramics with Howard Meister furniture designer 12/1/84-12/1/85
– Gallery Par: Ceramics with Al Capp Cartoons 6/1/85-7/1/85
Florida (of note):
–  Neu America Gallery: 2010-2013 Paintings and ceramics (Art Basel 2012)
– 1792 Gallery: 2013-2015 Ceramics
– Gallery O @ City Arts Factory resident artist 2013-current ceramics and painting
– JF Gallery, exclusive representation in Palm Beach: 2013-current painting
– Lake Mary Museum invitational: 7/20-9/5/2016 paintings and ceramics
– Enterprise Historical Center and Museum: 2/3-2/28/2017 paintings and ceramic
– Mennello Museum Invitational 1/19-3/2/2018
Awards:
– Ceramic Award Valencia College Student show 2016
– Best in Show Orlando Art Museum Urban Art 2015
– Honorable Mention Orlando Art Museum 2016 "Declaration of the Mind" Art and Philosophy
– Cultural Frontline Orlando Art Museum art selection for showing in Orange County Administration Bldg.
– JF Gallery Palm Beach Juried entry for showing 1/21-2/1/2017, 28 artists picked from nationwide entries
I am an International Artist with work in Switzerland, Canada and across the United States. Most notably 3 large paintings in a former Monastery in England. Working on a painting for a new resort in the Philippines. Just shipped a large painting to Germany, thanks to Boris Garbe from the Mills Gallery.
My painting style changes, from colorful modern abstracts to street style urban art. I have interesting collaborations mostly with young artists, have shown all of these collaborations in the Orlando Art Museum 1st Thursdays. Almost all of those collaborations with mostly young artists have shown, but missing Halsi (Orlando based artist). My ceramic interest for the past year has been raku firing and I am very grateful to fire them at Valencia College.
May we connect, care for all and live a peaceful life using the depths of our senses to guide us to a connection to the all, to everything.
Phone: 407-850-5939 (Landline)
Email: Vickiewardrobe@aol.com
PHOTOS COURTESY OF VICKIE WILSON